SB220 Heathkit, Drake L4, TenTec, Collins, Henry high voltage filter capacitor
This universal filter capacitor board fits inside the filter capacitor chamber of the Heathkit SB220, SB221 series amplifiers. This filter capacitor board also fits Henry, Yaesu, Kenwood, Collins, TenTec, Drake, Swan, and other amplifiers under 3600 volts with doubler, bridge, or full wave rectifiers.
With a compact size of 5-3/4″ long, 3-1/8″ wide, and just 2″ tall, it fits almost any old amateur radio tube amplifier. It also directly fits inside the SB220/221 filter capacitor housing. The SB220 fit allows mounting with compressible tape or with 6-32 x 2 inch (or taller) standoffs.
This board comes assembled with:
Eight 450Vdc 105C 5000 hour rated 330uF capacitors and sixteen 100k 3watt (for 50k equalizing) resistors.
It has add on provisions for:
1.) 10-ohm 10kV+ rated HV fault limiting resistor
2.) HV fault clamping diode and associated protection components
3.) Four HV meter multiplier resistors, with a bottom shunt resistor
It has four mounting holes on approximately  5-1/2″ x 3-7/8″ pattern.
Pads are provided for voltage doubler or conventional rectifier use.
It accepts wire lead or computer grade screw mount capacitors of standard spacing.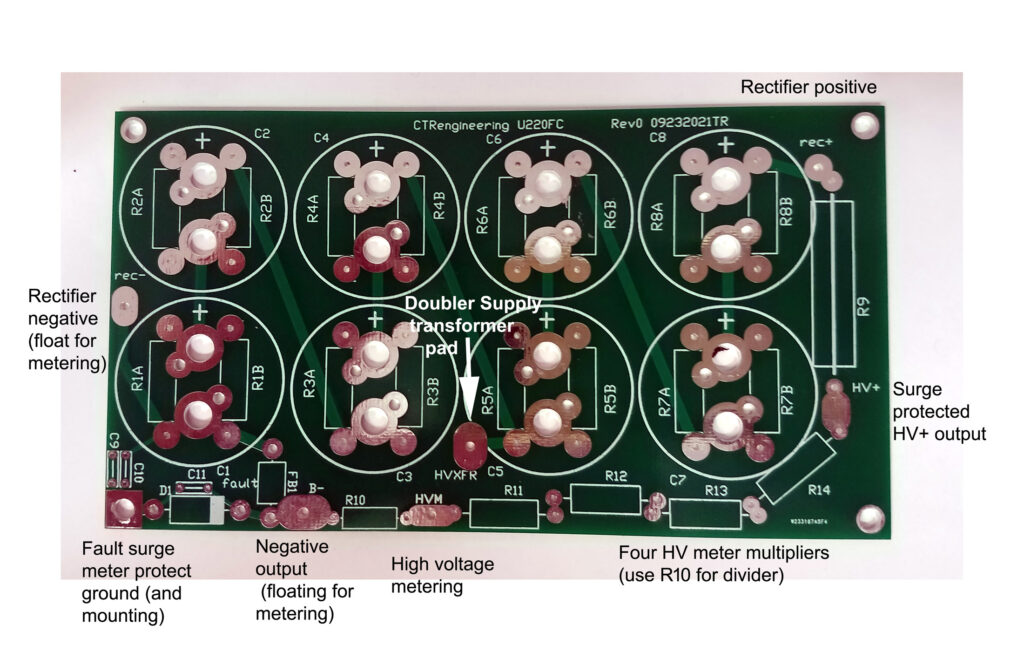 Filter Capacitor Board connectionsHigh quality long life properly rated metering and surge components are available at nominal cost, they are application specific.
U220FC Power Supply basic board assembled with 330uF 105C long life capacitors and 50K of equalizer/bleeder across each capacitor, $149 plus shipping, send Email to Order now