SB220 Heathkit, Drake L4, TenTec, Collins, Henry high voltage filter capacitor
Also see 5500 volt bridge rectifier and 4500 volt filter capacitor board 
Note: We also have plate chokes, switch wafers, capacitors, and other parts and boards for amplifiers.
Additional Heathkit and Collins data in our Files page. We also have a drop in step-start and soft key board. Please check the site top links.
This fully assembled universal filter capacitor board directly fits inside the filter capacitor chamber of the Heathkit SB220, SB221 series amplifiers. This filter capacitor board also fits Henry, Yaesu, Kenwood, Collins, TenTec, Drake, Swan, and other amplifiers under 3600 volts with doubler, bridge, or full wave rectifiers.
Heat is the enemy of filter capacitor life. The Heathkit SB-220 surrounds the capacitors with thick plastic mounts. These mounts trap heat in the capacitors, needlessly increasing capacitor temperature. This direct fit SB220 filter capacitor board eliminates the air restricting plastic spacers.
With a compact size of 5-3/4″ long, 3-1/8″ wide, and just 3″ tall, it fits almost any old amateur radio tube amplifier. This size was carefully chosen to directly fit inside the SB-220/ SB-221 filter capacitor housing. This board is held in place with supplied neoprene edge mounts, but also can mount with four 6-32 x 2 inch (or taller) standoffs for other applications.
This board comes assembled with:
Eight 450Vdc, 105C, long life 330uF or 220uF capacitors and sixteen 100k 3watt (for 50k equalizing) resistors.
It has add-on provisions for:
1.) 10-ohm 10kV+ rated HV fault limiting resistor
2.) HV fault clamping diode and associated protection components
3.) Four HV meter multiplier resistors, with a bottom shunt or safety resistor
Note: These add-on parts are special application specific components, although the fault limiting and diode clamp is beneficial to the SB220.
Four .144 inch diameter mounting holes are in a 5-1/2″ x 3-7/8″ pattern (not used in SB-220 Heathkit).
Pads are provided for voltage doubler or conventional rectifier use.
This board accepts wire lead, snap in, or computer grade screw mount capacitors of standard spacings. This ensures that no matter what happens in the future you will always be able to find replacement parts!
Schematic: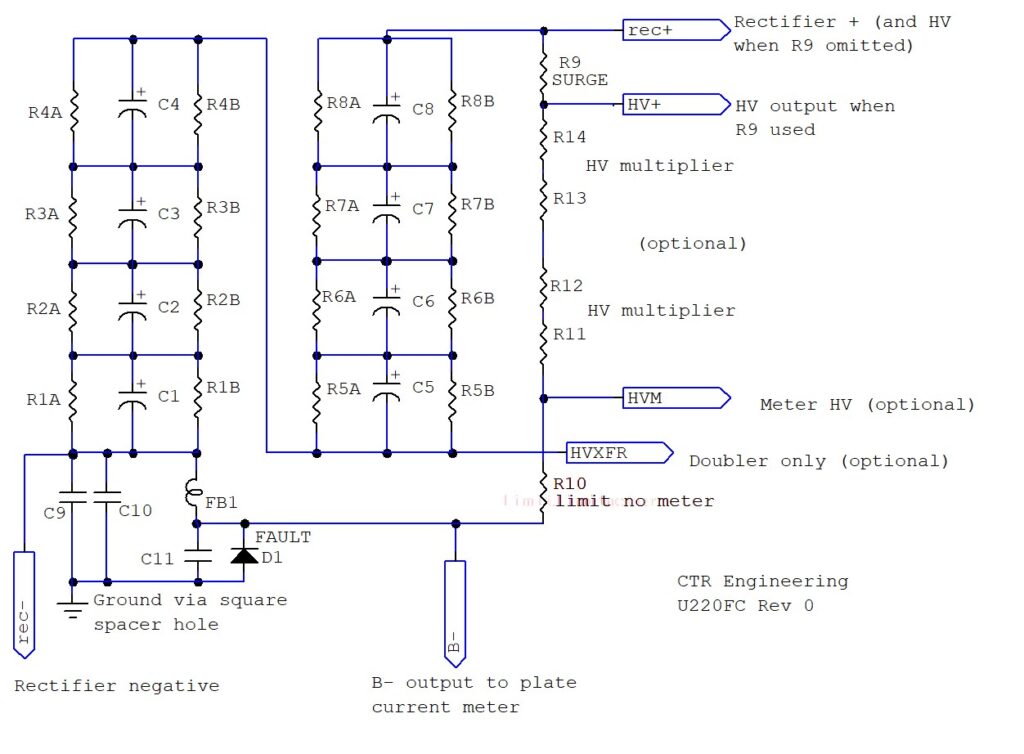 Dimensions and mounting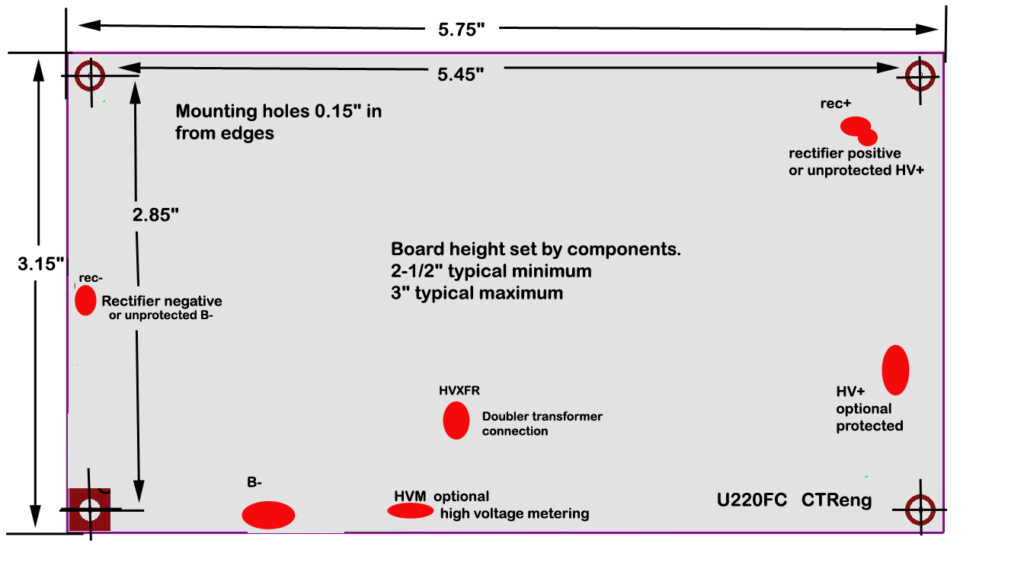 Board pad locations: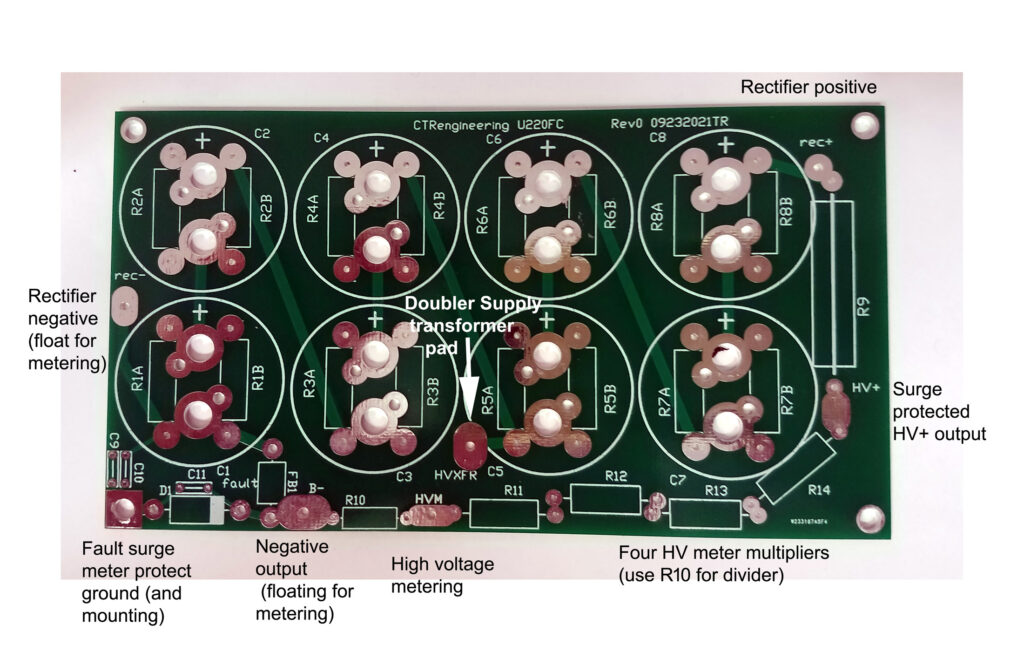 U220FC direct (no drilling required) fit into Heathkit SB220/221.  Power Supply basic board assembled with 330uF (or 220uF)  105C long life capacitors and 50K of equalizer/bleeder across each capacitor, fully assembled and tested at $149 plus shipping, send Email to Order now
Parts ORDERS or parts questions go to orders@ctrengineeringinc.com